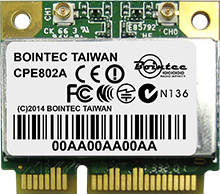 CPE802A
802.11bgn ,AR9287 ,miniPCIe ,2T2R
►Chipset:AR9287
►WiFi-Band:2.4GHz
►Interface:miniPCIe
►Data Rate:PHY rate of 300 Mbps
►Antenna:U.FL connectors x 2
►Support Soft-AP; QoS-WMM, WMM-PS; WiFi Direct
►Dimension:26.65 mm x 29.85 mm x 1.0 (± 0.15mm)
►Support:Support:Win7/Win8/Win10/Linux
Signal-Sustain Technology (SST)
CPE802A is a WLAN card in half-mini PCIe type supporting PCI Express interface.This card supplies better wireless connectivity, higher speed, and extended distance for notebook platforms, embedded devices and high end gaming machines.With miniPCIe interface, It packs the Atheros Signal-Sustain Technology (SST) technology that enhances rate-over-range performance.
Increase in Rate-over-range
Features are enabled by 802.11n including LDPC, TxBF and MLD. Impressively increase in rate-over-range of ~+100% at short range, ~+50% at mid range and ~+25% at long range.Bointec CPE802A consumes less power in every operation mode – active TX, active RX, idle associated and sleep than other Atheros previous chipsets.
2T2R
It keeps the notebook and other computing platforms running much longer on a single battery-charge, while providing TCP throughput of more than 200 Mbps when used in 2x2 mode. Bointec CPE802A is also optimized for Atheros Direct Connect™ P2P applications.With its Fast Channel Switch (FCS) feature, the channel switching time between the 2.4 GHz bands is reduced from 10 ms to as little as 1 ms.
Specification

Main Chipset

Atheros AR9287

TX\RX

2T2R

Modulation Techniques

.802.11 Legacy b\g
DSSS (DBPSK, DQPDK, CCK)
OFDM(BPSK, QPSK, 16-QAM, 64-QAM)
DSSS(Direct Sequenct Spread Spectrum) with
DBPSK(Differential Binary Phase Shift Keying 1Mbps),
DQPSK(Differential Quaternary Phase Shift Keying 2Mbps
CCK(Complementary Code Keying 5.5 & 11Mbps), and
OFDM(Orthogonal Frequency Division Multiplesxing with BPSK for 6,9 Mbps
QPSK for 12, 18 Mbps 16QAM for 24,36Mbps 64QAM for 48,54Mbps)

.802.11n
OFDM(BPSK, QPSK, 16QAM, 64QAM)

Frequency Range

USA:2.400~2.483GHz

Europe:2.400~2.483GHz

Japan:2.400~2.497GHz

China:2.400~2.483GHz

Electronics characteristics

Operating Voltage

3.3V +--9%

Operating Temperature

-10°C~60°C

Storage Temperature

-20°C~80°C

Operating Humidity

20% to 80%

Storage Humidity

20% to 80%)
Certifications

China

(Pending)

Canada

IC

USA

FCC

Europe

CE

Japan

Telec