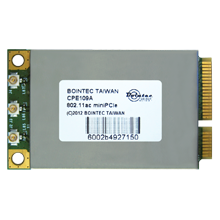 CPE109A
802.11a/ac ,QCA9880 ,Full Size miniPCIe ,3T3R
► Chipset:QCA9880
► WiFi-Band:5 GHz
► Interface:miniPCIe
► Data Rate:Antenna Port Data rate up t 1.3Gbps
► Antenna:U.FL connectors x 3
► Support 256 QAM Modulation
► Dimension:50.8mm x 29.85mm x 2.7m (± 0.4mm)
► Support:Linux
3T3R
Bointec CPE109A mini PCI Express is a Wi-Fi module form factor, performing as 3x3 Wi-Fi client mode solutions with compact size. In addition the module is designed to deliver up to 1.3Gbps wireless data rate and target for next-generation home and enterprise wireless access points for a variety of high-reliable and bandwidth-intensive video-over-wireless applications.
Enhance Reliability
A state-of-the-art and highly efficient architecture decrease the process requirements and power consumption while acting wireless performance of 802.11ac 3X3 to enable broad adoption of home and enterprise wireless networking. A significant high level of integration reduces external components in order to enhance reliability and promote the industry forwarding for advanced features.
Enterprise Networking
Therefore, it is able to diverse needs of high reliable home and enterprise networking. This document describes the system specification of the 3x3 Wi-Fi 802.11 a/ac based on 5GHz frequency band. The CPE109A is compliant with external PA and LNA for extreme performance.
Specification

Dimensions

50.8(+/-0.2mm)* 29.85(+/-0.2mm)

Main Chip

QualComm Atheros® QCA9880 (3X3)

Host Interface

PCI Express® Mini Card Electromechanical Specification

Revision 1.2.

Operation voltage

3.3V +/- 5%

Standard Conformance

IEEE 802. 11a and IEEE 802.11ac

Frequency Range

USA: 5.15-5.35 GHZ, 5.47-5.725 GHZ, 5.725-5.825GHz

Europe:5.15-5.35GHz, 5.47-5.725 GHz

Japan:5.15-5.35GHz, 5.47-5.725GHz

China:5.725-5.85GHz

Operation Voltage

3.3 V +/- 5%

RF connector

3 x SMT Ultra-miniature coaxial connectors (U.FL-R-SMT)

TX/RX

3T3R, RX diversity

Electronics characteristics

Operating Temperature

0° ~ +60°C

Storage Temperature

-20° ~ +80°C

Operating Humidity

15%~95%, non-condensing

Storage Humidity

Max.95%, non-condensing

Power Consumption

Power consumption (typical level with +/- 50mA tolerance )

Average TX Power (typical power level per chain, with +/- 2dB tolerance)

Receiver Sensitivity

Receiver Senitivity (typical 3 chains combined sensitivity level with +2/-2dB tolerance)
Certifications

Canada

(N/A)

Japan

(N/A)

USA

(N/A)

Europe

CE