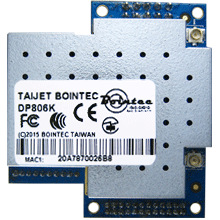 DP806K
802.11bgn ,MT7620A ,AP module ,2T2R
►Chipset:MT7620A
►WiFi-Band:2.4GHz
►Interface:UART, GPIOs , PCIe, SDIO, Fast Ethernet, I2C,I2S and USB
►Data Rate:PHY rate of 300 Mbps
►Antenna:U.FL connectors x 2
►Security:WEP, WPA, WPA2, 802.1x
►Dimension:40.5 mm x 37 mm x 9.85 mm
►Support PPPoE, Dynamic IP, Static IP Internet Access
AP Module
Bointec DP806K is a WiFi Access Point in module form factor, performing as 2x2 Wi-Fi AP module solutions with compact size.The DP806K provides a lower power, cost effective and flexible platform for embedded devices in various applications.

2T2R
It will be an effective and perfect solutions for household appliances, enterprise or factory equipment and consumer products due to its powerful SoC with the CPU based on MIPS 24 KEc (580 MHz).Hence, there are great extension features that can be implemented. Moreover, Bointec DP806K can provide the max throughput 300Mbps according to 2T2R on 2.4 GHz frequency band.

Multi Interfaces
In addition, the interface will be based on multi interfaces which are feasible and sophisticated on current most majorities of device. For the future extension, it possesses PCIe and Ethernet pins in order to provide more flexible functions. Users can choose Bointec miniPCIe module of WLAN 802.11 an/ac products with DP806K for achieving more great performance. It is definitely easier solutions for all users and engineers to operate and develop the products.
Specification

Standard

IEEE 802.11 b/g/n standard

Processor

SoC CPU

Memory

SDRAM DDR2 64MB

Flash

8MB Flash

Network Management

Local management

HTTP Web Browser

Radio

Frequency band

2.4 GHz

Bandwidth

HT20 and HT40

Antenna

Reserve 2 IPEX connectors

Output Power

EVM and Mask Compliant:

17dBm at 6Mbps

13dBm at 54Mbps

10dBm at HT40 MCS7

Sensitivity

- 90dBm at 6Mbps

- 72dBm D12at 54Mbps

- 65dBm at HT40 MCS7

Interfaces

UART

TXD;RXD;CTS;RTS

 

USB Data+;USB Data-

I2C

I2C Clock; I2C Data

I2S

DTR;DCD;DSR;RIN

Power Consumption

3W

Ambient temperature

0~40 Degree C
Certifications

Europe

CE

Global

RhHS

USA

FCC