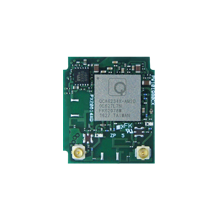 CFN906A
802.11abgn ,QCA AR6234 ,SMT ,2T2R
WiFi
►Chipset:AR6234
►WiFi-Band:2.4/5 GHz
►Interface:SMT
►Data Rate:2.4GHz(MCS0-7)/5GHz(MCS0/8-7/13)
►Antenna:U.FL connectors x 2
►Security:WEP, WPA, WPA2, 802.1x
►Dimension:19mm x 22mm x2.25mm (± 0.15mm)
►Support:Linux

Bluetooth
►UART as the Bluetooth host interface
►SDIO2.0 as the Wireless LAN host interface
►Standard:Bluetooth 4.0 BR/EDR/LE Smart Ready compatible.
Dual Band
CFN906A is the radio module which supports Dual Band IEEE802.11abgn radio module, supporting Bluetooth 4.0+LE Dual mode and SDIO2.0.This module complies with EU RoHS Directive 2011/65/EC(Lead Free).The QCA6234X SiP module which contains a MAC/BBP chipset, 2.4GHz and 5GHz RF front end circuits. Also this module supports high speed 2x2 MIMO and 40MHz band width mode for only 5GHz
2x2 MIMO
The CFN906A is a dual-band 802.11a/b/g/n plus Bluetooth SDIO module that is based on the CFN906A (Qualcomm Atheros QCA6234). It supports both 1x1 and 2x2 antenna confgurations.The CFN906A in 2x2 MIMO mode offers improved WLAN throughput, range and robustness to portable devices including patient monitors, printers, handheld terminals and more.
Saves Cost
The CFN906A is pre-tuned for the most optimized dual-band WLAN performance. The radio module design approach also saves cost as the CFN906A provides FCC/IC/ETSI/TELEC modular certifcation.The CFN906A provides superior product quality. Bointec has validated that our design meets IEEE standards and each module is individually tested during the production process. This ensures that each of our products will perform to our published specification.
General Specifications

Items

Specifications

Units

Remarks

Antenna Port

50 +/-20%

–

VSWR<2.6

Device Interfaces

SDIO v2.0

–

For Wireless LAN

UART

–

For Bluetooth, up to 4Mbps

RF Interface

IEE802.11 a/b/g/n/e/h

–

IEEE802.11-2012

Bluetooth 4.0 + LE Smart Ready

–

Max antenna gain +5.0dBi@2.4GHz

Weight

SMT version

1.3+/-0.2

g

Typ.

B2B version

2.7+/-0.2

g

Typ.

Dimensions

SMT version

19.00x22.00x2.25

mm

WxHxD

B2B version

24.00x24.00x4.45

mm

MTBF

90000

h

Min.

Wireless LAN General Specification

Items

Specifications

Units

Remarks

Chipset

QCA6234X, Core chip AR6004X CSP (Qualcomm Atheros)

-

 

Country/Domain Code

0x0000

-

NOTE1

Operating Frequency Range

Bands

Modes

Min.

Max.

 

US: 2412-2462MHz
EU: 2412-2472MHz
JP : 2412-2472MHz

2.4GHz

11b

2412

2472

MHz

US: W52/W53/W56/W58
EU: W52/W53/W56
JP : W52/W53/W56

11g/n 20MHz

2412

2472

MHz

5GHz

11a/n 20MHz

5180

5825

MHz

 

11n 40MHz

5190

5795

MHz

 

Modulation Type

11b

DSSS (DBPSK, DQPSK, CCK)

-

 

11a/g/n

OFDM (BPSK, QPSK, 16QAM, 64QAM)

-

 

Board Data

Film Name

bdata_SX-SDMAN2_20160314.bin

-

 

MD5 HASH

63dd182e83df7e95ee2caa2f90a602d5

-

 

Encryption

RC4 128 bits

-

 

AEC 128 bits

-

 

Bluetooth LAN General Specification

Items

Specifications

Units

Remarks

Chipset

AR6234X, Core chip AR3002X CSP (Qualcomm Atheros)

-

V2.2.1

Core Specification

Bluetooth 4.0

-

 

Operating Frequency Range

Modes

Min.

Max.

 

 

BR/EDR/LE

2402

2480

MHz

 

Frequency Step

BR/EDR

1

MHz

ch.1- ch.79

LE

2

MHz

ch.0- ch.39

Modulation Type

GFSK(1 Mbps), TT/4 DQPSK (2 Mbps), 8DQPSK (3 Mbps)

-

 

Encryption

E0

128

bits

BR/EDR

AEC

128

bits

LE
| | |
| --- | --- |
| Country | Certification |
| EU | CE |
| USA | FCC |
| Canada | IC |
| Japan | TELEC |