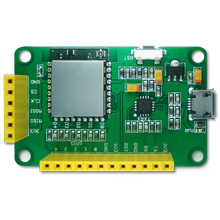 CEV808
802.11bgn ,MT7681N ,EV Board ,1T1R
►Chipset:MT7681N
►WiFi-Band:2.4GHz
►Interface:SMT
►Data Rate:PHY rate of 150 Mbps
►Antenna:Built-in printed antenna/
MHF4 connectors x 1(option)
►Security:WEP, WPA, WPA2
►Dimension:50 mm x 30 mm x 10 mm
►Smart WiFi configuration supported
IOT module
Bointec CEV808 is a low-cost, low-power consumption IOT module. The CEV808 integrate Wi-Fi single chip, which supports IEEE 802.11b/g/n stream, providing GPIO for intelligent control, and UART interfaces for device communication.

PCB Printed antenna
CEV808 integrate PCB Printed antenna and 4Mbits flash to reduce customer platform size. And also integrate power manage unit for single 3.3V power source for cost effective design.

32-bit RISC MCU
Bointec CEV808 embedded 32-bit RISC MCU for 802.11b/g/n drivers, supplicant, TCP/IP protocol stack, and networking applications, can be operated in station mode and softAP mode. CEV808 is an ideal solution for embedded device to enable networking service with minimized design effort.
General

Processor

Mediatek® MT7681N

Frequency band

2.4GHz (2.412 GHz to 2.484 GHz)

Bandwidth

HT20 and HT40

Antenna

●Built-in printed antenna

●External antenna via MHF4 connector (Optional)

●1T1R

Interfaces

●UART 115200bps(maximum)

●GPIO

WiFi

Standard

IEEE 802.11 b/g/n

Internet Protocols

IPv4, TCP/UDP, ARP/NDP, DHCPv4,

Security Protocols

WPA, WPA2-PSK,WEP

Power Consumption

Operating Voltage

3.3 V ± 0.05V

Power Consumption

●Transmit: 250 mA @16dBm

●Receive: 75 mA (typical)

●Power saving mode(DITM=1): 1.09mA

●Standby mode(Sleep): 130uA

Dimension

PCB Size

20 x 15 x 2.45 mm

Package

LGA / saw edge

Environmental

Operating Temperature

Industrial: N/A

Commercial: -15°C ~ +75°C

Storage Temperature

Industrial: N/A

Commercial: -40°C ~ +85°C

Operating Humidity

Operating humidity: 20-80%
EMI Certifications

Certificate

Status

FCC (USA)

20160429:On going

IC (Canada)

20160429:On going

TELEC (Japan)

20160429:On going

NCC (Taiwan)

20160429:On going

Green Certification/Declaration

Certificate

Status

RoHS

Yes, approved

REACH

Yes