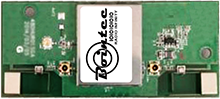 DUB901K
802.11abgn+BT4.0 ,MT7632U ,USB ,2T2R
WiFi
►Chipset:MT7632U
►WiFi-Band:2.4/5 GHz
►Interface:USB2.0
►Data Rate:PHY rate of 300 Mbps
►Antenna:PIFA Antenna x 2
►Dimension:70mm x 30mm x 9.9m (± 0.3mm)

Bluetooth
►BT-Band:2.4 GHz
►Standard:Bluetooth V4.0
►Operation voltage:5.0V +/- 5%
Dual Band
Bointec DUB901K is a WLAN module supporting IEEE 802.11 a/b/g/n standard and Bluetooth 4.0 by the USB 2.0 interface. DUB901K is truly a cost-effective solution for the current wireless market with the powerful performance. Besides, DUB901K possesses the dual band features and 2X2 MIMO technology (2T2R).
Metal Antenna
Moreover, it can achieve the max throughput of 300Mbps based on its comprehensive modulation technique.Bointec DUB901K provides an easy design for various environment such as household appliances, industry, consumer and automobile applications. It contains two metal antenna on the module.
Convenient
It is convenient for all users to use two screw holes on the module in order to assemble on customer's host board or custom boards. Based on the compact size module and robust setup scheme, DUB901K provides those advantages to enhance the value of our customer's target product.
Specification

Main Chipset

MT7632U

Frequency band

2.4GHz and 5GHz

Bandwidth

20MHz and 40MHz

Operation Frequency

USA: 2.400 ~ 2.483GHz, 5.15 ~ 5.35GHz, 5.47 ~ 5.725GHz, 5.725 ~ 5.85GHz.

Europe: 2.400 ~ 2.483GHz, 5.15 ~ 5.35GHz, 5.47 ~ 5.725GHz

Japan: 2.400 ~ 2.497GHz, 5.15 ~ 5.35GHz, 5.47 ~ 5.725GHz

China: 2.400 ~ 2.483GHz, 5.725 ~5.85GHz

Channels Support

B Mode: 2.400~2.4836 GHz(1CH~13CH)

G Mode: 2.400~2.4836 GHz(1CH~13CH)

A Mode: 5,150MHz~5,250MHz (36/40/44/48CH)

5,250MHz~5,350MHz (52/56/60/64CH)

5,470MHz~5,825MHz

(100/104/108/112/116/120/124/128/132/136/140/149/153/157/

161/165CH)

Transmit Spectrum mask

Frequency mask is complying with IEEE 802.11spec

Transmit Center Frequency Tolerance

The transmitted center frequency tolerance shall be +/-20 ppm maximum

Modulation Technique

802.11 Legacy a/b/g

DSSS (DBPSK, DQPSK, CCK)

OFDM (BPSK, QPSK, 16-QAM, 64-QAM)

DSSS (Direct Sequence Spread Spectrum) with

DBPSK (Differential Binary Phase Shift Keying 1Mbps),

DQPSK (Differential Quaternary Phase Shift Keying 2Mbps), and

CCK (Complementary Code Keying 5.5&11Mbps), and

OFDM (Orthogonal Frequency Division Multiplexing with BPSK for 6,9Mbps、 QPSK for 12,18Mbps、 16QAM for 24,36Mbps、 64QAM for 48, 54Mbps)

802.11n a/g

OFDM (BPSK, QPSK, 16-QAM, 64-QAM)

MCS0~15 data rates.

HT20 and HT40 modes.

Transfer Data Rate

802.11a: 6, 9, 12, 18, 24, 36, 48, 54Mbps

802.11b: 1, 2, 5.5, 11Mbps

802.11g: 6, 9, 12, 18, 24, 36, 48, 54Mbps

802.11n: @800GI(400GI)

• 20MHz BW

1 Nss: 65(72.2) Mbps maximal

2 Nss: 130(144.444) Mbps maximal

• 40MHz BW

1 Nss: 135(150) Mbps maximal

2 Nss: 270(300) Mbps maximal

Hardware

Standard

IEEE 802.11 a/b/g/n standard and Bluetooth 4.0

Antenna

2 metal antenna on the module board for WiFi (2T2R)

U.FL connectors for external Bluetooth antenna (Optional)

Host Interface

USB 2.0

PCB Dimension

(70 +/- 0.2mm) x (30+/- 0.2mm) x (1+/- 0.2mm) with 4 layers

Power

5V DC +/- 5%,

Operation Temperature

0 ˚C ~ 50 ˚C

Storage Temperature

-20 ˚C ~ 80 ˚C

Bluetooth

Main Chipset

MT7632U

Compliance

Bluetooth v4.0

Frequency Range

2402~2480 MHz

Initial carrier frequency tolerance

+/- 20kHz (typical)

Modulation technique

Frequency hopping, 1600 hops/sec

Channel spacing

1MHz

Channels support

79 channels

Operation voltage

5.0V +/- 5%

Output power (dBm)

Target power table with 3dB tolerance(BT output Power by FW adjust)

Operation Temperature

0 ˚C ~ 50 ˚C
Certifications

China

(Pending)

Taiwan

(Pending)