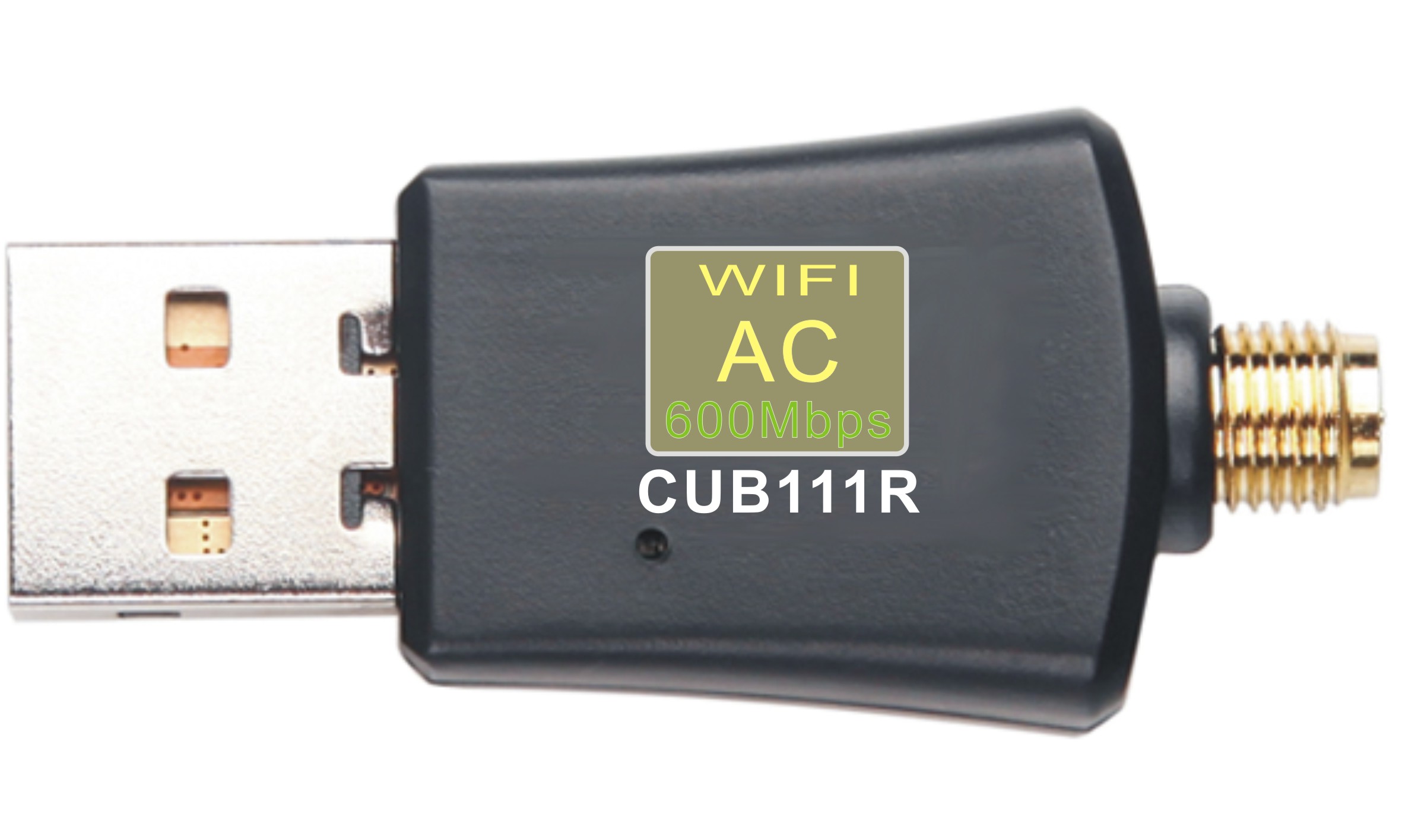 CUB111R
802.11abgn/AC, 1T1R USB2.0
- Main Chipset : Reatek 8811CU

- Wifi 802.11ac standard

*802.11 a/b/g/n products

- 3dBi internal Antennas providing even better wireless performance

- Ultra-fast AC600 (433+150Mbps) wireless speed with 802.11ac( Maximum speed up to 5GHz 433Mbps or 2.4GHz 150Mbps)

- Dual Band connections for lag-free HD video streaming and gaming

- Supports O.S.:

*Windows 10/8/7/XP 32/64bit

*Apple MAC OS,

*Linux

- External Antenna edition for radio
Bointec CUB111R is a 802.11AC USB Wireless adapter using a Realtek 8811AU chipset providing a maximum transfer rate of 600Mbps.This product can bed used for computer, PSP, media player or other device which needs the flexibility of a wireless connection.

With an external Antenna, it is easy for user to adjust a best angle for wireless radio signal reception/transition.
Bointec CUB111R can be configured as an AP during installation ,allowing you to share the internet connection to other Wi-Fi device. With the inscluded AUTO-RUN CD, even novice user can install Bointec CUB111R easily and quickly.
WiFi
Standard
IEEE802.11ac,IEEE802.11a , IEEE802.11b , IEEE 802.11g , IEEE 802.11n
Bus Interface
USB 2.0
Main Chip
Realtek RTL8821AU/CU
Data Rate
802.11a: 54, 48, 36, 24, 18, 12, 9, 6 Mbps
802.11b: 11, 5.5, 2, 1 Mbps
802.11g: 54, 48, 36, 24, 18, 12, 9, 6 Mbps
802.11n: MCS 0 to 15 for HT20MHz,
MCS 0 to 15 for HT40MHz,
802.11ac: MCS 0 to 8 for HT20MHz
MCS 0 to 9 for HT40MHz
MCS 0 to 9 for HT80MHz
Media Access Control
CSMA/CA with ACK
Modulation Techniques
802.11ac: 256QAM, 64QAM, 16QAM, QPSK, BPSK
802.11a: 64QAM, 16QAM, QPSK, BPSK
802.11b: CCK, DQPSK, DBPSK
802.11g: 64QAM, 16QAM, QPSK, BPSK
802.11n: BPSK, QPSK, 16QAM, 64QAM
RF Output Power
2.4GHz: 802.11b : 18 dBm±1.5dB
2.4GHz: 802.11n : 14 dBm±1.5dB
5GHz: 802.11a : 12 dBm±1.5dB
5GHz: 802.11ac : 12 dBm±1.5dB
(for detail, check specification document)
RF Sensitivity
11a,20MHz:- MCS=0 PER @ -90 dBm, typical
11n,20MHz:- MCS=0 PER @ -90 dBm, typical
11b,20MHz@8%PER:- 11Mbps PER @ -91 dBm, typical
(for detail, check specification document)
Network Architecture
Ad-hoc mode (Peer-to-Peer)
Infrastructure mode
Security
WEP 64&128bit, WPA, WPA-PSK, WPA2, WPA2-PSK, WPS, IEEE 802.1X, IEEE 802.11i
Driver support
 
OS Supported
Windows XP (32/64) ;
Vista (32/64) ;
Windows 7 (32/64) ;
Windows 8 (32/64) ;
Windows 8.1 (32/64) ;
Windows 10 (32/64) ;
Linux2.6 or above version ;
Mac10.11 or lower version.
Electronics characteristics
Operating Voltage
5V/1A ±5% I/O supply voltage
Dimansion
55.00mm x 15.00mm x 4.00mm(PCB-A)
Antenna Type
wire-out or U.FL connectors x 2
Operating Temperature
-0° ~ +50°C
Storage Temperature
-20° ~ +70°C
Operating Humidity
5%~95%, non-condensing
Storage Humidity
5%~95%, non-condensing
Certifications
CE (Eurpoe)
Yes
RoHS
Yes
Country
Certification
Europe
CE
USA
FCC (IN PLAN)
Canada
IC (TBD)
Japan
TELEC (IN PLAN)
Korea
KCC (IN PLAN)
Taiwan
NCC (IN PLAN)