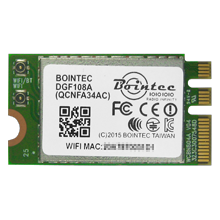 DGF108A
802.11abgn/ac+BT4.1 ,QCA6174 ,M.2(1630) ,2T2R
WiFi
► Chipset:QCA6174
► WiFi-Band:2.4/5 GHz
► Interface:M.2(1630)
► Data Rate:up to 867Mbps
► Antenna:MHF4 connectors x 2
► Security:WEP, WPA, WPA2, 802.1x
► Dimension:16.5mm x 30mm x 2.0m (± 0.5mm)
► Support:Support:Win7/Win8/Win10/Linux

Bluetooth
► BT-Band:2.4 GHz
► Data Rate:1Mbps ,2Mbps and Up to 3Mbps
► Standard:Bluetooth V4.1 ,V4.0LE ,V3.0+HS ,V2.1+EDR
Dual band
Bointec DGF108A is an dual band 802.11ac/b/g/n Dual-Band WiFi + Bluetooth M.2 adapter.It is a 2T2R (WiFi/Bluetooth co-existence supported) technology, with 20/40/80MHz and 256-QAM to maximize bandwidth.
Faster speeds
Bointec DGF108A lets you move at the speed of life with faster speeds (up to 867 Mbps, 1~3Mbps EDR for Bluetooth), higher capacity, broader coverage and longer battery life.Dramatically reshapes your connected experience.
Higher throughput wireless networking
Adopting the latest 802.11ac solution, Bointec DGF108A is ideal for next-generation high throughput enterprise networking solution.As usual, DGF108A incorporated with advanced security encryption, such as WEP, WPA, WPA2, and 802.1x for secure wireless connection.
General

WiFi

Standard

802.11ac/abgn

BusInterface

PCI Express

Data Rate

802.11a: 54, 48, 36, 24, 18, 12, 9, 6 Mbps

802.11b: 11, 5.5, 2, 1 Mbps

802.11g: 54, 48, 36, 24, 18, 12, 9, 6 Mbps

802.11n: MCS 0 to 15

802.11ac: MCS 0 to 9

Media Access Control

CSMA/CA with ACK

Modulation Techniques

802.11ac: 256QAM, 64QAM, 16QAM, QPSK, BPSK

802.11a: 64QAM, 16QAM, QPSK, BPSK

802.11b: CCK, DQPSK, DBPSK

802.11g: 64QAM, 16QAM, QPSK, BPSK

802.11n: BPSK, QPSK, 16QAM, 64QAM

Network Architecture

Ad-hoc mode (Peer-to-Peer )

Infrastructure mode

Operation Channel

5GHz

12: – United States

19: – Europe

8: – Japan

2.4GHz

11: (Ch. 1-11) – United States

13: (Ch. 1-13) – Europe

14: (Ch. 1-14) – Japan

Frequency Range

802.11a / ac: 5.15~5.85 GHz

802.11bg :2.412 ~ 2.4835 GHz

Bluetooth

Standard

Bluetooth V4.1, V4.0LE, V3.0+HS, V2.1+EDR,

Bus Interface

USB1.1

Data Rate

1 Mbps, 2Mbps and Up to 3Mbps

Modulation Scheme

GFSK, π/4-DQPSK and 8-DPSK

Frequency Range

2.402~2.480 GHz

Transmit Output Power

0≤ Output Power ≤ +10; Class 1Device

Receiver Sensitivity

< 0.1% BER at -70dBm

Software

Bluetooth Suite

Electronics characteristics

Operating Voltage

3.3 V ±9% I/O supply voltage

OS Supported

Microsoft Windows

Antenna Type

Dual MHF4 Antenna Connectors

Operating Temperature

-10° ~ +70°C

Storage Temperature

-40° ~ +80°C

Operating Humidity

15%~95%, non-condensing

Storage Humidity

Max.95%, non-condensing
| | |
| --- | --- |
| Country | Certification |
| EU | CE |
| USA | FCC |
| Canada | IC |
| Japan | TELEC |
| Korea | KCC |
| Taiwan | NCC |