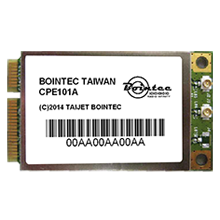 CPE101A
802.11a/an/ac ,QCA9882 ,Full Size miniPCIe, 2T2R
►Chipset:QCA9882
►WiFi-Band:5 GHz
►Interface:Full Size miniPCIe
►Data Rate:Max throughput 866Mbps
►Antenna:U.FL connectors x 2
►Support 256 QAM Modulation
►Dimension:50.8mm x 29.8mm x 2.7m (± 0.2mm)
►Support:Linux
High-Performance
The CPE101A is a highly integrated wireless local area network (WLAN) system-on-chip (SoC) for 5GHz applications.It enables high-performance 2x2 MIMO with two spatial streams for wireless demanding the highest robust link quality, maximum throughput and range such as Home Entertainment,Health Care, Monitor System or Industry and Enterprise applications. Thus, the CPE101A will be a perfect solution to meet these advanced conditions.
Cost-Effective
CPE101A is truly a cost-effective solution for the current wireless market with the powerful performance. Besides, it possesses 2X2 MIMO technology (2T2R).It can achieve the max throughput of 866Mbps based on its comprehensive modulation technique and supporting HT80.
Enhance the Value
It is convenient for all users to use miniPCIe interface in order to assemble on customer's host board or custom boards.Based on the standard size module and robust setup scheme, CPE101A provides those advantages to enhance the value of our customer's target product.
Specification

Radio

IEEE 802.11 a/an/ac

Frequency Range

5GHz

Bandwidth

HT20, HT40, HT80

Host Interface

PCI Express® Mini Card Electromechanical Specification Revision 1.2

Antenna

• 2 x SMT Ultra-miniature coaxial connectors (U.FL)
• 2T2R (2x2 with 1NSS/2NSS MCS 0-9)

Dimensions

PCB Dimension

(50.8+/-0.2mm)x(29.85+/-0.2mm)x(1.0+/-0.1mm) with 4 PCB layers

Temperature

Operation Dimension

-10 ℃ ~ 60 ℃ (with thermal pad underneath assembled, see definition in mechanical drawing)

Storage Dimension

-20 ℃ ~ 80 ℃

Power Consumption

Power

3.3V +/- 5%.
Certifications

China

(pending)

Canada

(pending)

USA

Mexico

(pending)

Japan

(pending)

Brazil

(pending)

Taiwan

(pending)