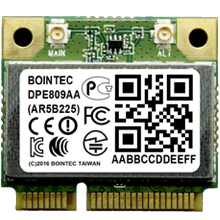 DPE809AA
802.11bgn+BT4.0 ,AR9485+AR3012 ,miniPCIe ,1T1R
WiFi
►Chipset:AR9485
►WiFi-Band:2.4GHz
►Interface:miniPCIe
►Data Rate:PHY rate up to 150Mbps
►Antenna:U.FL connector x 1
►Security:WEP, WPA, WPA2, 802.1x
►Dimension:26.65mm x 29.85mm x 3.37m (± 0.15mm)
►Support:Win7/Win8/Win10/Linux

Bluetooth
►Chipset:AR3012
►BT-Band:2.4 GHz
►Standard:Bluetooth V4.0 + HS
►Offers lowest power consumption​
1T1R
DPE809AA included Atheros AR9485 and AR3012 is a 802.11bgn 1x1,plus Bluetooth 4.0 solution.With features of Atheros Align 1-stream 802.11n, DPE809AA cutting the power consumption in half, the AR9485 is enabling best-in-class wireless features with a greatly-reduced impact on the battery life of mobile PCs.Backward compatible to 802.11b/g and forward compatible to multi-stream 11n.Targeting the growing value computing products market segment with 150 Mbps PHY rates, DPE809AA is the ideal wifi solution for computing users seeking robust throughput, enhanced range and extended battery life for data networking applications as well as P2P applications.

Offers Lowest Power Consumption
DPE809AA offers lowest power consumption 30 to 50 percent lower than comparable solutions. Such significant power savings are the result of Atheros enhanced PHY architecture, 55nm design and efficient power amplifiers. DPE809-AA also adapts a unique Green Transmission mode, which dynamically adjusts the systems Wi-Fi transmit power depend-ing on the distance between the router and the client device.

Bluetooth 4.0 + HS
DPE809AA also adapts Atheros AR3012 supports both the Bluetooth 4.0 + HS specification versions. Bointec DPE809AA also utilizes Atheros Universal Wireless CooperationTM support for maximum performance with Atheros Atheros AR9485.Supports the standard HCI USB interface, which makes it compatible with any upper layer Bluetooth stack. Microsoft software is available for Win7, Vista, and XP. Linux BlueZ is also well supported.
Specification

Dimensions

26.65(+/-0.15mm)*29.85(+/-0.15mm)*3.37(+/-0.1mm)*(2L FR4)

Main Chip

Atheros® AR9485 & Atheros® AR3012

Host Interface

PCI Express® Mini Card Electromechanical Specification
Revision 1.2.

Operation voltage

3.3V +/-9%

Security

64-bit, 128-bit, 152-bit WEP Encryption

802.1x Authentication

AES-CCM & TKIP Encryption

Transfer data rate

802.11b: 1, 2, 5.5, 11Mbps

802.11g: 6, 9, 12, 18, 24, 36, 48, 54Mbps

802.11n: @800GI(400GI)

20MHz BW, 65(72.2) Mbps maximal

40MHz BW, 135(150) Mbps maximal

Operation mode

Infrastructure & Ad-hoc mode (TBD)

RF connector
TX/RX

2 x SMT Ultra-miniature coaxial connectors (U.FL-R-SMT)
1T1R, RX diversity

Electronics characteristics

Operating Temperature
Storage Temperature

-10°C~60°C

Storage Temperature

-40°C~80°C

Power Consumption

Power consumption@25℃

802.11n (2.4GHz)Avg/Max (mA)

FTP TX:295/410

AP scanning, no association with AP:204/408

**The maximum current consumption would be impacted by radiation
environment and the driver mechanism.

Alliances

Wi-Fi® alliance®

WECA Compliant

Bluetooth
WHQL

Bluetooth v4.0
MIcrosoft Windows® 2K, XP, Vista Compliant

Emission

EMC certificate

*FCC part 15 (USA)

*IC RSS210 (Canada)

*TELEC (Japan)

Bluetooth

Compliance

Bluetooth v4.0

Frequency range

2400~2483.5MHz

Initial carrier frequency tolerance

+/-40kHz(typical)

Modulation technique

Frequency hopping, 1600 hops/sec

Channel spacing

1MHz

Channels support

79 channels

Power consumption@25℃

Idle mode

Continuous DH5 TX

**The maximum current consumption would be impacted by radiation
environment and the driver mechanism.

Output power (dBm)

2dBm typical, class 2 device (-6dBm < output power < 4dBm)

Sensitivity

-85 dBm (typ.) for pi/4-DQPSK, 0.1%BER

Antenna

1xSMT Ultra-miniature coaxial connectors(U.FL-R-SMT)
Certifications

Canada

IC

USA

FCC

Japan

Telec

Taiwan

(Pending