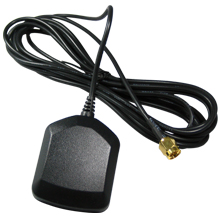 TWRN-0752301-251
GPS antenna,1.5M, active, SMA MM
►Magnetic Type, stick on any kinds of metal surface
►Active type for different kinds of host device
►Water proof type
►Extent cable are able to customized requirement
►Simple, easy deployment
►RoHS compliant

►Weight of Antenna:52.2g
Bointec TWRN-0752301-251_Active is GPS bands antenna for GPS application. With SMA connector female.
TWRN-0752301-251_Active GPS Antenna provides a perfect solution for system integrator house who need a flexible, magnetic GPS antenna. It is housed in leak tested packaging designed to withstand continuous exposure to shock, excessive vibration, extreme temperatures, water and sunlight. For added reliability, the antenna cable can be threaded through a fix rack to keep it safe from vibrations when vehicle moving or such kind of damage.
Bointec TWRN-0752301-251_Active Antenna includes advanced filtering technology for reliable performance in hostile RF jamming environments. This antenna is also a high-quality solution for adding GPS data to marine navigation systems.
Electronical Data

Frequency

1575.42(+/-) 3MHz

VSWR

1.5 max.

Bandwidth

10MHz /20MHz min. at -10dB

Axial Ratio

3dB typical

Impedance

50 Omh

Peak Gain

2.5dBic/4dBic min at 0 degree (7cm*7cm ground plane)

Gain Coverage

>= -4dBic at -90 degree< 0/ <= 90 degree (over 75% volume)

Power Handling

1Watt

Polarization

RHCP

Environental

Working temperature

-40~+85 degree C

Storage temperature

-50~+85 degree C

Viberation

Sine sweep, 1G(0-P),10-150-10Hz each axis

Humidity

95%~100RH

EMC

ETSI EN 301 489-19 V1.2.1: 2002

Degrees of Protection

IP56 (dust and water proof)

ESD test

IEC 61000-4-2:1995/A1:1998/A2:2000

Mechanical Specification

Weight (without cable)

42 grams max.

Size

48 * 40 * 13 mm

Connector

SMA Male/Male

RF cable

RG174

Mounting

Magnetic Based

Housing Color

Black

 

 

Amplifier Module

Model Number

TWRN-0752301-251

Type

Active

Gain without Cable

27dB typical

Noice Figure

1.8dB typical

Output VSWR

2.0max

Bandwidth

 

Axial Ratio

 

VSWR

 

Filtering

+/- 40MHz 9dB

 

+/- 70MHz 20dB

 

+/- 100MHz 30dB

DC votage

DC2.7V to 6.0V

DC Current

8.5+/1 4.5mA

Gain Pattern

Model Number

TWRN-0752301-251

Peak Gain at 0 degree

22.3dB

Axial Ratio

2dB

Test Condition

5V cable, 5mRG174 / loss around 6dB