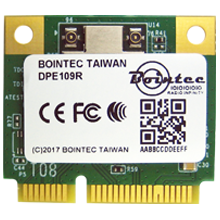 DPE109R
802.11abgn/ac+BT4.2 ,RTL8822BE ,miniPCIe ,2T2R,MHF4
WiFi
► Chipset:RTL8822BE
► WiFi-Band:2.4/5 GHz
► Interface:miniPCIe
► Two-stream spatial multiplexing up to 867Mbps data rate
► Antenna:MHF4 connectors x 2
► Security:WEP, WPA, WPA2
► Dimension:26.65mm x 29.85mm x 2.75m (± 0.3mm)

Bluetooth
► BT-Band:2.4 GHz
► Standard:Bluetooth V4.2
► Compatible with Bluetooth v2.1 and v3.0+EDR
WIFI with Bluetooth 4.2 combo
Bointec Technologies, Inc. introduces the pioneer of the IEEE 802.11 a/b/g/n/ac WIFI with Bluetooth
4.2 combo half mini card (HMC) --- DPE109R. The DPE109R IEEE 802.11 a/b/g/n/ac PCIE WIFI with Bluetooth 4.2 combo HMC is a highly integrated single-chip MIMO (Multiple In, Multiple Out) wireless local area network (WLAN) solution to let users enjoy the digital content through the latest wireless technology without using the extra cables and cords. It combines a WLAN MAC, a 2T2R capable WLAN baseband, and RF in s single chip. It enables a high performance, cost effective, low power, compact solution that easily fits onto the PCI Express and USB half mini card.
MU-MIMO
The DPE109R baseband implements Multi-user Multiple Input, Multiple Output (MU-MIMO) Orthogonal Frequency Division Multiplexing (OFDM) with two transmit and two receive paths (2T2R). Features include two spatial stream transmissions, short Guard Interval (GI) of 400ns, spatial spreading, and support for variant channel bandwidth. Moreover, DPE109R provides one spatial stream space- time block code (STBC), Transmit Beamforming (TxBF) and Low Density Parity Check (LDPC) to extend the range of transmission. At the receiver, extended range and good minimum sensitivity is achieved by having receiver diversity up to 2 antennas. As the recipient, the DPE109R also supports explicit sounding packet feedback that helps senders with beamforming capability.
Bluetooth

Standard

Bluetooth 2.1+Enhanced Data Rate (EDR) + BT4.2

Bus Interface

USB2.0

Data Rate

Bluetooth 2.1+EDR data rates of 1,2, and 3Mbps

Modulation Scheme

GFSK (1Mbps), Π/4 DQPSK (2Mbps) and 8DPSK (3Mbps)

Frequency Range

2.402~2.480GHz

Transmit Output Power

Class 2 : 0~6 dBm

Receiver Sensitivity

BER<0.1% (Anritsu 8852B Tx-70dBm

Software

Bluetooth Suite

Wi-Fi

Standard

IEEE802.11ac,IEEE802.11a , IEEE802.11b , IEEE 802.11g , IEEE 802.11n

Bus Interface

PCI Express

Data Rate

802.11b: 1, 2, 5.5, 11Mbps

802.11a/g: 6, 9, 12, 18, 24, 36, 48, 54Mbps

802.11n: up to 150Mbps-single

802.11n: up to 300Mbps-2x2 MIMO

802.11ac:up to 192.6Mbps (20MHz channel)

802.11ac:up to 400Mbps (40MHz channel)

802.11ac:up to 866.7Mbps (80MHz channel)

Modulation Techniques

DSSS, OFDM, DBPSK, DQPSK, CCK, 16-QAM, 64-QAM for WLAN

Operation Channel

2.4GHz:

USA, NORTH AMERICA, Canada and Taiwan – 1 ~ 11

China, Australia, Most European Countries – 1 ~ 13

Japan – 1 ~ 14(CH14 only for 802.11b)

802.11g:

USA, Canada and Taiwan – 1 ~ 11

China, Australia, Most European Countries – 1 ~ 13

5GHz:

USA, EUROPE – 36, 40, 44, 48, 52, 56, 60, 64, 100, 104, 108,

112, 116, 120, 124, 128, 132, 136, 140, 149, 153, 157, 161, 165

Frequency Range

2.4 GHz : 2.412 ~ 2.484 GHz

5 GHz: 4.915 ~5.925Ghz

Security

WAPI

WEP 64-bit and 128-bit encryption with H/W TKIP processing

WPA/WPA2 (Wi-Fi Protected Access)

AES-CCMP hardware implementation as part of 802.11i security standard

Electronics characteristics

Operating Voltage

3.3 V

OS Supported

Microsoft Windows

Antenna Type

I-PEX MHF4 Connector Receptacle (20449)

ANT1: Wi-Fi à TX/RX

ANT2: Wi-Fi/Bluetooth à TX/RX
| | |
| --- | --- |
| Country | Certification |
| EU | CE (TBD) |
| USA | FCC (TBD) |
| Taiwan | NCC (TBD) |