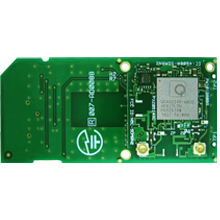 CEV906
802.11abgn , CFN906A Evaluation board
WiFi
►Chipset:AR6234
►WiFi-Band:2.4/5 GHz
►Interface: SD card form factor
►Data Rate:2.4GHz(MCS0-7)/5GHz(MCS0/8-7/13)
►Antenna:U.FL connectors x 2
►Security:WEP, WPA, WPA2, 802.1x
►Dimension:19mm x 22mm x2.25mm (± 0.15mm)
►Support:Linux

Bluetooth
►UART as the Bluetooth host interfacez
►SDIO2.0 as the Wireless LAN host interface
►Standard:Bluetooth 4.0 BR/EDR/LE Smart Ready compatible.
SD card form factor
Bointec CEV906 is a dual-band 802.11a/b/g/n plus Bluetooth SDIO card that is based on the CEV906 (Qualcomm Atheros AR6234). CEV906 is mechanically designed in a SD card form factor to provide customers with a vendor independent form factor.
Solution for the i.MX 6
The CEV906 is the only Freescale-recommended wireless connectivity solution for the i.MX 6 evaluation platform which includes integrated radio software support (driver and security supplicant). Integrates an external 5 GHz Front End Module (FEM) and is individually tuned to optimize WLAN performance.
Each module is individually tested
Bointec provides superior product quality. CEV906 has validated that our design meets IEEE standards and each module is individually tested during the production process. This ensures that each of our products will perform to our published specification.
Specification

Chipset

Qualcomm Atheros AR6234

Host Interface

SDIO V 2.0 (4-bit, 1-bit)

Operating Voltage

3.30 VDC +/- 5%

Radio Specications

802.11b/g/n 2.412 - 2.484 GHz / 802.11a/n 5.18 - 5.825 GHz

Baseband Specications

CSMA/CA media access; DSSS, OFDM

Bluetooth Specications

BT3.0+HS, BT4.0, Class 1.5

Operating Temperature

-10 to +70 degrees C

Dimensions

24.0 x 51.0 x 5.8 mm (W x H x D)

Connector Type

SD Card Edge 9 Pins / FFC Connector 20 Pins

General Specications

On-Chip Functionality: Single-chip MAC/BB/RF/PA/LNA

Frequency Band: 2.4 GHz / 5 GHz

Network Standard: 802.11a, 802.11b, 802.11g, 802.11n(1-stream)

Modulation Modes: OFDM (64QAM, 16QAM, QPSK, BPSK),

DSSS (CCK, DQPSK, DBPSK), DSSS-OFDM

(64QAM, 16QAM, QPSK, BPSK)

Hardware Encryption: WEP, WPA/WPA2 (TKIP/AES-CCMP), WAPI

Quality of Service (QoS): WMM, WMM-PS, 802.11e

Interfaces

Communications: SDIO 2.0

Supported Data Rates:

IEEE 802.11b 1-11 Mbps

IEEE 802.11g 6-54 Mbps

IEEE 802.11a 6-54 Mbps

IEEE 802.11n HT20 6.5 - 65.0 Mbps

IEEE 802.11n HT40 13.5 - 135.0 Mbps

Bluetooth: BDR/EDR/LE

Physical Speci­cations: 24.0 x 51.0 x 5.8 mm (W x H x D)

Driver Support

Linux

Android

Windows Embedded Compact 7

QNX Neutrino

Green Hills Intergrity

Mentor Graphics Nucleus
Certifications

Europe