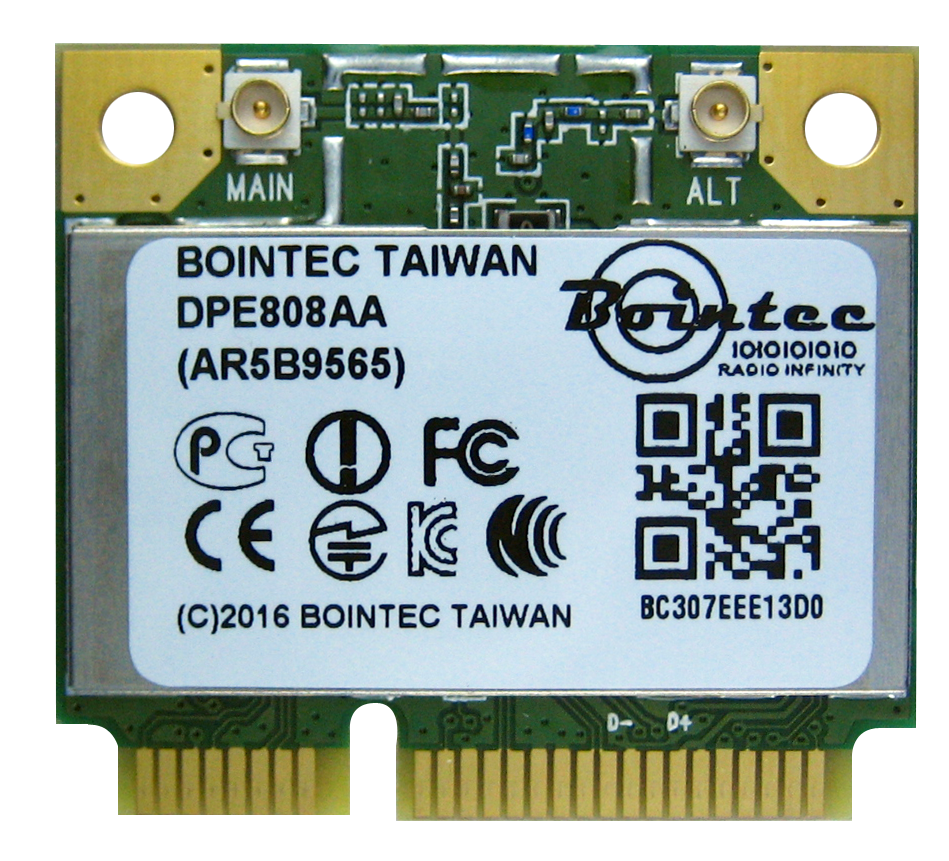 DPE808AA
802.11bgn+BT4.0 ,AR9565 ,miniPCIe ,1T1R
WiFi
►Chipset:AR9565
►WiFi-Band:2.4GHz
►Interface:miniPCIe
►Data Rate:PHY rate of 300 Mbps
►Antenna:U.FL connectors x 1 /U.FL connectors x 2 (Option)
►Security:WEP, WPA, WPA2, 802.1x
►Dimension:26.65 mm x 28.95 mm x 1.0 mm (± 0.15mm)
►Support:Win7/Win8/Win10/Linux

Bluetooth
►BT-Band:2.4 GHz
►Standard:Bluetooth V4.0
►Sensitivity:-85 dBm (typ.) for pi/4-DQPSK, 0.1%BER
Combo Solutions
Bointec DPE808AA is the combo solutions of WLAN 802.11 b/g/n and Bluetooth 4.0 solutions.DPE808AA truly provide great advantages such as cost effective solutions, the lower power consumption, small size based on the half miniPCIe card, the wide temperature tolerance and several significant EMC certificates according to different areas. Therefore, customers can use these benefits in order to add or create more value on their current and future product line.
Meet Requirement of the IPC
Regarding the communication, DPE808AA support IEEE 802.11 b/g/n so as to achieve the max throughput 150Mbps or 300Mbps based on optional 1T1R scheme. Besides, it can achieve Bluetooth 4.0 standard with single mode feature. Considering the applications, Bointec DPE08AA can truly fulfill the current markets such as industrial field, automobile and commercial field. Especially, it can meet requirement of the IPC, semi-rugged or consumer products due to the great tolerance of temperature.
Full Support
Additionally, Bointec can provide the full support of DPE808AA including the hardware and software. Thus, it is definitely easy for all our clients to deploy and use the DPE808AA according to our quick guide.
Specification

Interface

Interfaces

PCI Express® Mini Card Electromechanical Specification Revision 1.2

WiFi

Standard

IEEE 802.11 b/g/n

Frequency Range

● USA: 2.400 ~ 2.483GHz

● Europe: 2.400 ~ 2.483GHz

● Japan: 2.400 ~ 2.497GHz

● China: 2.400 ~ 2.483GHz

Bandwidth

HT20 and HT40

WiFi Alliance

WECA Compliant

Antenna

One IPEX connector (1T1R)

Option: Two IPEX connectors (2T2R)

Security

64-bit, 128-bit, 152-bit WEP Encryption

802.1x Authentication

AES-CCM and TKIP Encryption

Bluetooth 4.0 (Low Energy)

Compliance

Bluetooth v4.0

Frequency Range

2400~2483.5 MHz

Sensitivity

-85 dBm (typ.) for pi/4-DQPSK, 0.1%BER

Dimension

PCB Dimension

26.65+/-0.15mm x 29.85+/-0.15mm x 1.0+/-0.1mm 2L FR4

Power and Consumption

Operation Voltage

3.3V +/- 9%

WiFi Power Consumption@ 25 ℃

802.11n (2.4GHz)

Avg/Max (mA)

● FTP Tx 266/ 410

● AP scanning, no association with AP 204/ 408

◆ The maximum current consumption would be impacted by radiation environment and the driver mechanism

Bluetooth Power Consumption@ 25 ℃

Avg (mA)

●Idle mode 15.1

●Continuous DH5 TX 68.8

◆ The maximum current consumption would be impacted by radiation environment and the driver mechanism.

Operational Temperature

Operation Temperature

0~60 ℃

Storage Temperature

-20~80 ℃
Certifications

China

(Pending)

Canada

IC

USA

FCC

Japan

Telec

Japan

VCCI

Europe

ETSI