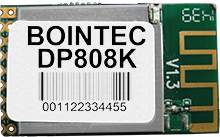 DP808K
802.11bgn ,MT7681 , AP Module ,1T1R
►Chipset:MT7681
►WiFi-Band:2.4GHz
►Interface:SMT
►Data Rate:PHY rate up to 150Mbps
►Antenna:50 Ohm external antenna via an I-PEX MHF receptacle
►Security:WEP, WPA2-PSK
►Dimension:30 mm x 18 mm
►WiFi mode:Client/Soft AP mode
1T1R
Bointec DP808K module operates in 2.4GHz ISM frequency band with low power consumption. It applies a highly integrated MAC/BBP in the MT7681 chipset, support IEEE 802.11 b/g/n standards based on 1T1R technology (SISO). DP808K is truly cost-effective WiFi solutions in order to meet the Internet of Things (IoT), smart city applications and smart home/automobile appliances.

1 UART Interface and 4 GPIO ports
Considering the cost and power consumption characteristic, DP808K will provide the great wireless connection and reliable solution.The single side components mounted module provides 1 UART interface and 4 GPIO ports. Regarding the antenna, DP808K provides the optional on-board or external antenna.Moreover, DP808K is not only easy to use but also supports various protocols such as TCP/IP and UDP.

AT commands
It is truly convenient for our clients to use a serial AT commands engineered by Bointec in order to connect the WiFi and control behaviors easily.Besides, Bointec has developed the comprehensive developing kit including the evaluation board for DP808K.Thus, it is truly advantage for the users to survey and build in their requirement so as to add additional value in client's product line and make it time to market.
Specification

WiFi Protocol

IEEE 802.11b/g/n

Data interface

1 UART, Max data rate: 115200bps

I/O ports

4 GPIO, Max interrupt request time 1ms

LED display

Link/Activity display

Memory size

External SPI Flash

4Mbit

WiFi Features

WiFi mode

Client/Soft AP mode

Encryption

WPA2-PSK, WEP (more will be available later)

WiFi RF Characteristics (Typical)

Frequency

ISM band, 2412~2483.5MHz

Tx Power

802.11b (CCK) 11Mbps: 19+/-dBm

802.11g (OFDM) 54Mbps: 16+/-dBm

802.11n (HT20@MCS7), 15+/-1dBm
802.11n(HT40@MCS15), 15+/-1dBm

Rx sensitivity

802.11b: -86+/-1dBm

802.11g: -72+/-1dBm

802.11n (HT20), -68+/-1dBm

802.11n (HT40), -65+/-1dBm

Operation Voltage and Current (Typical)

Power supply

3.3+/-0.05 VDC

Current

1.1mA

Sleep mode

6mA

RX listen mode

15mA

RX power saving, DTIM=1

70mA

RX Active, HT40, MCS7

220mA

802.11g (OFDM) 54Mbps

210mA

802.11n (HT20@MCS7)

210mA

802.11n (HT40@MCS7)

245mA

802.11b (CCK) 11Mbps

Operation Condition

Operating temperature

-10 to +60°C

Storage temperature

-20 to +80°C

Operating humidity

20% to 80%

Physical

Size

30*18mm

Weight

2.4g
Certifications

Europe

(Pending)

Globla

(Pending)