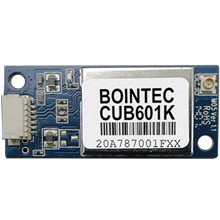 CUB601K
802.11bgn ,RT3070 ,USB, 1T1R
►Chipset:RT3070
►WiFi-Band:2.4GHz
►Interface:USB 2.0/USB 1.1
►Data Rate:PHY rate of 150 Mbps
►Antenna:External 50 ohm antenna via an I-PEX receptacle
►Security:WEP, WPA, WPA2
►Dimension:40 mm x 18 mm x 6.2(Max) mm
►Support:Support:WinXP/WinVista/Linux
USB Interface
Bointec CUB601K is a WLAN module supporting IEEE 802.11 b/g/n standards with 6-pin connector supporting USB 2.0 interface.This is a low cost compact WLAN module designed in products with embedded system for the wireless connectivity.

Integrated MAC/BBP and RF
This Module is designed to operate in 2.4GHz ISM frequency band, it applies a highly integrated MAC/BBP and RF single chip RT3070 with 150Mbps PHY rate supporting. It fully complies with IEEE802.11n draft 3.0 and IEEE802.11b/g feature.
Specification

Standard

IEEE802.11b/g, IEEE 802.11n(1T1R mode)

Bus Interface

USB 2.0/USB1.1

USB Interface

6-pin, 2.0mm pitch male jumper, or 1.0mm pitch connector

Operation Frequency

USA (FCC): 2.412 GHz~2.462 GHz(channel 1-11) ISM band
Europe(CE): 2.412 GHz~2.472 GHz(channel 1-13) ISM band

Protocols

802.11b:CCK, QPSK, BPSK,
802.11g/n:OFDM

Security

WPA,WP2, 64/128/152-bit WEP, WPS

Electronics characteristics

Operating Voltage

5.0 VDC +/- 5% ( or3.3VDV+/- 5% upon special requirement)

Antenna Type

External 50 ohm antenna via an I-PEX receptacle

Operating Temperature

-20ºC to +70ºC

Storage Temperature

-30ºC to +85ºC

Operating Humidity

20% to 80%

Storage Humidity

20% to 80%
Certifications

China

(Pending)

Canada

IC

USA

FCC

Japan

(Pending)

Taiwan

(Pending)

Europe

CE