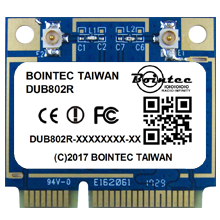 DUB802R
802.11bgn+BT4.0 ,RTL8273BU ,USB ,1T1R
WiFi
►Chipset:RTL8723BU
►WiFi-Band:2.4GHz
►Interface:USB/IPEX
►Data Rate:PHY rate up to 150Mbps
►Antenna:antenna outlet two
►Security:WEP, WPA, WPA2
►Dimension:29.8mm x 26.8mm


Bluetooth
►BT-Band:2.4 GHz
►Standard:Bluetooth 2.1+EDR/3.0 and BT4.0 Dual Mode
►Support for Bluetooth Low Energy
High-Performance
Bointec DUB802R is a solder down module of Wi-Fi 802.11bgn with Bluetooth 2.1/3.0/4.0 multi-function network interface controller by USB 2.0.It combines a wireless LAN MAC, a 1T1R capable baseband, and RF. Using by Realtek RTL8723BU, it provides a complete solution for a high-performance integrated wireless and Bluetooth device.
WiFi and Bluetooth integration
The integration provides better coordination between 802.11 and Bluetooth, and with sophisticated dynamic power control and packet traffic arbitration, it is able to provide the best coexistence performance overview.
Application
Target range of applying DUB802R are :MID, networking camera, STB, GPS, Desk-Top Pc ;Note-book ;TV; Blue-ray Disk; Set-top box, Hard disk player, Network Radios, PSP and other device which need be supported by wireless networking.
Feature

Specification

General

Main Processor

Realtek® RTL8273BU

Frequency band

2.4GHz (2.412 GHz to 2.4835 GHz)

Antenna

Internal : N/A

External : via pin assignment

Interfaces

USB 2.0

Dimension(L*W*H)

29.8*26.8*3.15mm (LxWxH) ;Tolerance: +-0.2mm

Operating Voltage

3.3 V ± 0.3V

Power Consumption

96mA at 3.3V(standby)

255mA at 3.3V (TX mode)

Clock Source

40MHz

Temperature

0°C to +50°C (Operation)

-40°C to +85°C (Storage)

WiFi

Standard

IEEE 802.11b

IEEE 802.11g

IEEE 802.11n

Bandwidth

HT20 and HT40

RF Input / Output

1T1R

Modulation

802.11b: CCK, DQPSK, DBPSK

802.11g: 64 QAM, 16 QAM, QPSK, BPSK

802.11n: 64 QAM, 16 QAM, QPSK, BPSK

Work mode

Infrastructure, Ad-Hoc

Roaming

Support

Data Rate

802.11b: 1, 2, 5.5, 11Mbps

802.11g: 6, 9, 12, 18, 24, 36, 48, 54Mbps

802.11n: MCS 0 to 7 (HT20)

802.11n: MCS 0 to 7 (HT40)

Spread Spectrum

IEEE 802.11b: DSSS (Direct Sequence Spread Spectrum)

IEEE 802.11g/n:OFDM (Orthogonal Frequency Division Multiplexing)

RF Output

16dBm@11b,

14dBm@11g ,

13dBm@11n

Sensitivity

1M: -92dBm@8%PER

6M: -89dBm@10%PER

11M:-86dBm@8%PER

54M:-73dBm@10%PER

135M:-67dBm@10%PER

Distance

100M(802.11gn typical)

300M(open space)

Internet Protocols

IPv4, TCP/IP

Security Protocols

WPA, WPA2-PSK,WEP

Bluetooth

Standard

Bluetooth 2.1+EDR

Bluetooth 3.0

Bluetooth 3.0+HS

Bluetooth v4.0

Modulation

8DPSK, π/4 DQPSK, GFSK

Data Rate

1 Mbps for Basic Rate

2,3 Mbps for Enhanced Data Rate

Spread Spectrum

FHSS(Frequency-Hopping Spread Spectrum)

RF Output

+10dBm (MAX.)

RX: Sensitivity

-89dBm@1Mbps

-85dBm@2Mbps

-83dBm@3Mbps

Distance

10M (Maximum)
DUB802R Certifications

China

(by contact Bointec Sales)

USA

(by contact Bointec Sales)

Europe

(by contact Bointec Sales)

(EMI Certifications)

(by contact Bointec Sales)