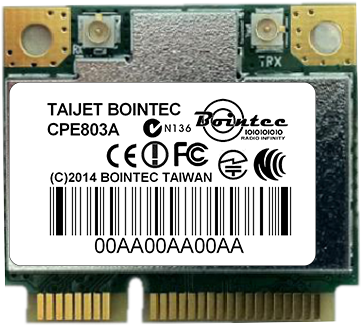 CPE803A
EOL(End Of Life)
► EOL(End Of Life) since 2017/2/11

► IEEE802.11 b/g/n compliant 2.4GHz.
► Compliant with IEEE 802.11b, 802.11d, 802.11e, 802.11g standards and 802.11i specification.

► PCI Express Based Specification 1.1 compliant
► Singal-Sustain Technology (SST) rate over range enhancements: LDPC, MLD, TxBF
► Supports all mandatory IEEE 802.11n features, including several optional features such as HT40, half-guard interval in HT40 and Rx Space Time Block Coding (STBC)
► Low power sleep modes supported, Wake on Wireless LAN (WoW) supported.
► RoHS compliant
Bointec CPE803A is a WLAN module supporting IEEE 802.11 b/g/n standard based on the miniPCI Express interface. CPE803A is truly a cost-effective solution for the current wireless market with the reliable performance.
Moreover, it can achieve the max throughput of 150Mbps based on its comprehensive modulation technique. Bointec CPE803A provides an easy design for various environment such as household appliances, industry, consumer and automobile applications. It reserve two RF U.FL connector for external antenna.
It is convenient for all users to use two screw holes on the module in order to assemble on customer's host board or custom boards.
Based on the compact size module and robust setup scheme, CPE803A provides those advantages to enhance the value of our customer's target product.
Specification

TX/RX

1T1R, RX diversity

Frequency range

USA: 2.400~2.483GHz
Europe: 2.400~2.483GHz
Japan: 2.400~2.497GHz
China: 2.400~2.483GHz

Host interface

PCI Express® Mini Card Electromechanical Specification Revision 1.2

Channels support

802.11 b/g/n
US/Canada: 11(1~11)
Major European country: 13(1~13)
France: 4(10~13)
Japan: 11b: 14(1~13 or 14th), 11g: 13(1~13)
China: 13(1~13)

Operation voltage

3.3V +/- 9%

Operation distance

•802.11b
Outdoor: 100 m @11Mbps, 200 m @1Mbps
Indoor: 50 m @11Mbps, 100 m @1Mbps
•802.11g
Outdoor: 100 m @54Mbps, 200 m @6Mbps
Indoor: 50 m @54Mbps, 100 m @6Mbps
•802.11n
Outdoor: 200 m @MCS0/ 20MHz BW
50 m @MCS7/ 20MHz BW
30m @ MCS7/40MHz BW
Indoor: 80m @MCS0/ 20MHz BW
50m @MCS7/ 20MHz BW
30m @MCS7/ 40MHz BW
**The operation distance would be impacted by radiation environment and the driver mechanism

Operation system supported

Windows XP, Vista, and Win 7.

PCB dimension

26.65+/-0.15mm x 29.85+/-0.15mmx1.0+/-0.1mm 2L FR4

Security

64-bit, 128-bit, 152-bit WEP Encryption
802.1x Authentication
AES-CCM & TKIP Encryption

Operation mode

Infrastructure & Ad-hoc mode (TBD)

Operation temperature

0℃~60℃

Storage temperature

-20℃~80℃

Wi-Fi® alliance®

WECA Compliant

WHQL

Microsoft® 2K, XP, Vista Compliant

EMC certificate

FCC part 15 (USA)
IC RSS210 (Canada)
TELEC (Japan)
ETSI, EN301893, EN60950 (Europe)
VCCI CLASS B

Media access
protocol

CSMA/CA with ACK architecture 32-bit MAC

Antenna

2 x SMT Ultra-miniature coaxial connectors (U.FL-R-SMT)
Certifications

Europe

CE, RoHS

USA

FCC