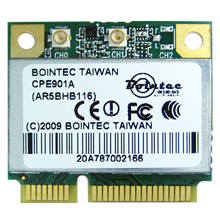 CPE901A
802.11abgn ,AR9382 ,miniPCIe ,2T2R
►Chipset:AR9382
►WiFi-Band:2.4/5 GHz
►Interface:miniPCIe
►Data Rate:up to 300Mbps
►Antenna:U.FL connectors x 2
►OFDM (BPSK, QPSK, 16-QAM, 64-QAM)
►Dimension:26.8mm x 29.85mm x 3.37m (± 0.1mm)
►Support:Support:Win7/Win8/Win10/Linux
Dual-Band
Bointec CPE901A included Atheros AR9382, is a single-chip, dual-band (2.4/5 GHz), 2-stream 11n solution.With PCIe interface.It packs the Atheros Signal-Sustain Technology (SST) technology that enhances rate-over-range performance. Features are enabled by 802.11n including LDPC, TxBF and MLD. Impressively increase in rate-over-range of ~+100% at short range, ~+50% at mid range and ~+25% at long range.
2T2R Mode
Bointec CPE901A consumes less power in every operation mode - active TX, active RX, idle associated and sleep than other Atheros previous chipsets.It keeps the notebook and other computing platforms running much longer on a single battery-charge, while providing TCP throughput of more than 200 Mbps when used in 2x2 mode.
Fast Channel Switch (FCS)
Bointec CPE901A is also optimized for Atheros Direct Connect™ P2P applications. With its Fast Channel Switch (FCS) feature,the channel switching time between the 2.4 GHz and 5 GHz bands is reduced from 10 ms to as little as 1 ms.
Specification

Dimensions

26.80(+/-0.1mm)* 29.85(+/-0.1mm) * 3.37(+/-0.1mm)

Main Chip

Atheros® AR9382

Host Interface

PCI Express® Mini Card Electromechanical Specification Revision 1.2.

Operation voltage

3.3V +/- 5%

Transfer data rate

· 802.11a: 6, 9, 12, 18, 24, 36, 48, 54Mbps

· 802.11b: 1, 2, 5.5, 11Mbps

· 802.11g: 6, 9, 12, 18, 24, 36, 48, 54Mbps

· 802.11n: @800GI(400GI)

· 20MHz BW

1 Nss: 65(72.2) Mbps maximal

2 Nss: 130(144.444) Mbps maximal

· 40MHz BW

1 Nss: 135(150) Mbps maximal

2 Nss: 270(300) Mbps maximal

RF connector

2 x SMT Ultra-miniature coaxial connectors

TX/RX

2T2R (2x2 with MCS 0-15)

Electronics characteristics

Operating Temperature

-10° ~ 60°C

Storage Temperature

-40° ~ 80°C

Power Consumption

Transmit Power consumption @ 25°C

(mA)

 

100% TX duty

This can be treated as the peak current consumption during operation.

Radio

Radio TX & Power

802.11a :

Setting

802.11b :

 

802.11g :

 

802.11n :

Transmit spectrum mask

Frequency mask is marginal to comply with IEEE 802.11spec.

Radio RX Sensitivity

Comply with IEEE 802.11 a/b/g/n standard

TX Center Frequency

11a : +/- 20ppm, 11b/g : +/- 25ppm

Tolerance

(The transmitted center frequency tolerance shall be ± 25 ppm maximum.)

Power Control Accuracy

+1.5dB/-1.5dB

Frequency range

USA: 2.400 ~ 2.483GHz, 5.15 ~ 5.35GHz, 5.47 ~ 5.725GHz,

5.725 ~ 5.85GHz

Europe: 2.400 ~ 2.483GHz, 5.15 ~ 5.35GHz, 5.47 ~ 5.725GHz

Japan: 2.400 ~ 2.497GHz, 5.15 ~ 5.35GHz, 5.47 ~ 5.725GHz

China: 2.400 ~ 2.483GHz, 5.725 ~5.85GHz

Modulation technique

• 802.11 Legacy a/b/g

DSSS (DBPSK, DQPSK, CCK)

OFDM (BPSK, QPSK, 16-QAM, 64-QAM)

• 802.11 n/a/g

OFDM (BPSK, QPSK, 16-QAM, 64-QAM)
| | |
| --- | --- |
| Country | Certifications |
| Canada | IC |
| USA | FCC |
| Japan | Telec |
| Brazil | ANATEL |
| Taiwan | NCC |
| Korea | KCC |
| Europe | EN 300 328 v1.8.1 |
| Europe | CE |
| Other EMI Certifications | (by contact Bointec Sales) |
| | |