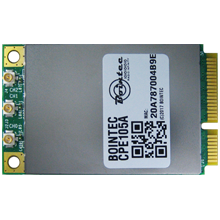 CPE105A
802.11abgn/ac ,QCA9880 ,Full Size miniPCIe ,3T3R
► Chipset:QCA9880
► WiFi-Band:2.4GHz/5GHz
► Interface:miniPCIe (Full size)
► Data Rate:Antenna Port Data rate up t 1.3Gbps
► Antenna:U.FL connectors x 3
► Support 256 QAM Modulation
► Dimension:50.8mm x 29.85mm x 2.7m (± 0.4mm)
► Support:Linux
3T3R
The CPE105A is an 802.11ac compliant dual-band 3x3 PCIe Mini Card. It is based on the the Qualcomm Atheros QCA9880 chipset, designed to deliver wireless data rates of up to 1.3Gbps.
256-QAM
The CPE105A supports 20/40/80MHz and 256-QAM to maximize bandwidth efficiency. Each card is individually tested and inspected to ensure the industry's highest quality resulting greater performance and reliability.
Applications
CPE105A card gives customers the ability to easily and reliably support applications where this extra bandwidth and performance is required, like deploying HD video over Wi-Fi. Applications include commercial AP, routers, gateways, large-size printers, video devices, medical devices etc.
General specifications

Chipset

Qualcomm Atheros QCA9880

Host Interface

PCI Express mini card v1.2

Radio Speci cations

IEEE 802.11 ac/b/g/n

Antenna Terminal

U.FL connector x3

Operating Voltage

3.3V ± 5%
Environmental specifications

Operating Temperature & Humidity

Temperature:-10 ~ +60℃

Humidity: 20 - 80%RH

StorageTemperature & Humidity

Temperature: -10 ~ +60℃

Humidity: 20 - 80%RH

Dimensions

29.85 x 50.8 x 4.0mm Thickness =1.0mm

Connector Type

PCI Express mini card edge